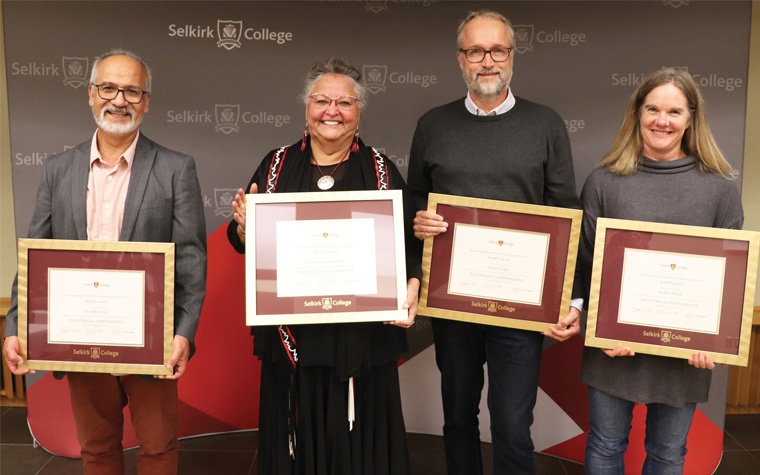 Outstanding Selkirk College Educators Honoured.
It was an evening to celebrate those who fuel the engine of education with four outstanding Selkirk College instructors honoured as 2023 SCOPE Award recipients.
The annual Standing Committee on Professional Excellence (SCOPE) Awards are an opportunity for both students and colleagues to recognize the talents and passion of instructors from across Selkirk College programs. Awarded by the Selkirk College Faculty Association (SCFA), the recipients are a testament to the creativity, diligence and expertise that fills the classrooms, labs, shops and studios on all campuses throughout the region.
"I'm really, really proud to be standing here in front of you," award recipient Elizabeth Ferguson told those gathered at the early-October ceremony on the Castlegar Campus. "But no one does this work alone. I'm only standing here because of my colleagues, staff and leadership who make this possible every day. You shaped me, and I am grateful and humbled by this honour."
Joining Ferguson as 2023 SCOPE Award winners are Jamie Bliss, Kerri Webb and Victor Villa. At the award ceremony, all four were provided tributes by colleagues who shared words from students, staff and faculty that were included in nomination packages.
Selkirk College