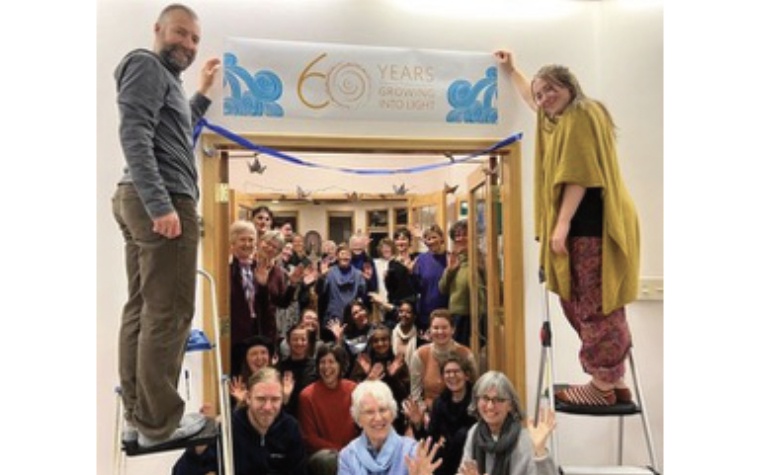 Yasodhara Ashram turns 60 this year! How remarkable to think that one of the most enduring yoga centres in North America is in the Kootenays of British Columbia.
Ashram founder Swami Radha was one of the first Western women to ever become a Swami and the Ashram continues to be women-led to this day. With no initial money and little resources to work with, she built the Ashram over many years relying on faith and hard work. The Ashram's philosophy is encapsulated by the majestic Temple of Light, an award-winning architectural marvel which can be seen from the ferry crossing Kootenay Lake. The Temple's eight doors symbolize how the Ashram welcomes people of all cultural and religious backgrounds, ages, genders, sexual orientations and walks of life to experience transformation and healing from the land, teachings and community.
Ashram President Swami Lalitananda extends a warm invitation to come experience one of the Ashram's onsite retreat offerings during its 60th anniversary year. "We are open for both guided and self-guided retreats and would be delighted to see many new faces at the Ashram this year," says Lalitananda. "I would also like to make a special invitation to younger generations to come for Karma Yoga (selfless service) and be part of our more sustainable, compassionate way of life."
For those interested in visiting the grounds including the Temple of Light, the Ashram is also pleased to offer guided tours every Saturday at 2 pm all the way through to October 21. Registration is not necessary – feel free to drop-in at these times (the Ashram is not currently open to the public at other times). Located at 527 Walker's Landing Road, Kootenay Bay, BC. www.yasodhara.org
How remarkable that six decades after Swami Radha started the Ashram, hundreds of people every year continue to experience well-being and transformation from its on-site and online programs. What a great time to discover (or re-discover) the Ashram on what promises to be a very special year.
Yasodhara Ashram