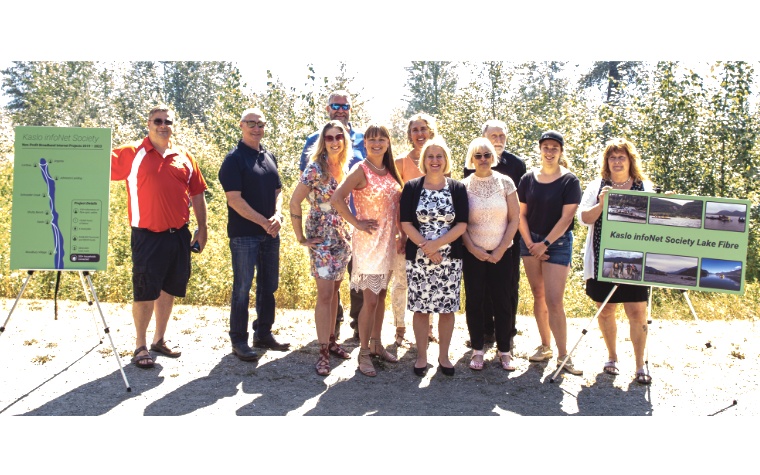 And take it to the people they have done! KiN – Kaslo InfoNet  – has just wrapped up their latest project in Argenta and Johnson's Landing, which completes their first major service expansion, bringing gigabit internet from Ainsworth to Johnson's Landing, and completes service to the seven rural communities including Kaslo, Woodbury, Shutty Bench, Schroeder Creek, Lardeau Valley, Argenta and Johnson's Landing & Bulmer's Landing.
Lisa Beare, Minister of Citizens' Services travelled to Kaslo to join MLA Brittny Anderson, Mayor Hewat, and RDCK Director Aimee Watson in recognizing this accomplishment. Isaac Maxfield, KiN's ED and two of the current board members – Chair Don Scarlett & Cassie Gerretsen (who is also the Chamber President) were on hand as well. Additionally, Tom Blackwood – a Senior Telecoms Specialist for the Ministry, Chelsey Jones – Director of LINKS; local media Karma Halleran, publisher of Pennywise attended in support, as well as Mike van Hellmond, recruiter for IBEW Electrical Workers Union came out of curiosity.
"The project being celebrated was funded by the Connecting BC Program, administered by the Northern Development Initiative Trust, the Regional District of Central Kootenay and KiN itself. This funding enabled KiN to lay fibre in Kootenay Lake in order to connect together Kaslo, Shutty Bench, Schroeder Creek, Lardeau, Argenta, Bulmers Landing and  Johnson's Landing. From the landing points KiN branched out to connect all the homes and businesses in each community, creating a network as effective as that in a downtown urban commercial building." said Scarlett, an electrical engineer who has contributed much time, right from the beginning of KiN. An original contributor who volunteered his time on the design of the fibre laying in Kootenay Lake, getting permits in order, and helped lay and install the fibre-optic cable lake to landing sites.
"Most of us participating had a direct link to KiN and a few personal stories were shared about the positive impact experienced with the arrival of KiN and their fibre network. Now anybody can work from Kaslo, for any business in the world, who uses internet… and many in our community already do just that." stated Ed Maxfield.
There is a large amount of Provincial and Federal money available to help develop this kind of tech infrastructure for rural communities. I think it goes without saying that the reason we have been so successful (80 in the Province) is because of the people who have had the vision and skills to do it. Our KiN is unstoppable –  "Got a mountain in your way? – put it in the lake of course" says  Maxfield. We are so very lucky for the calibre of knowledge brought to this project by community members such as Tim Ryan, Sam Truchon, Tyler Hamilton, Don Scarlett, Maggie Winters, Eric Early, Stewart Coonce, Mark Thomson, Scott Gillis…. and the many, many more who have contributed time over the years.
  Karma Halleran