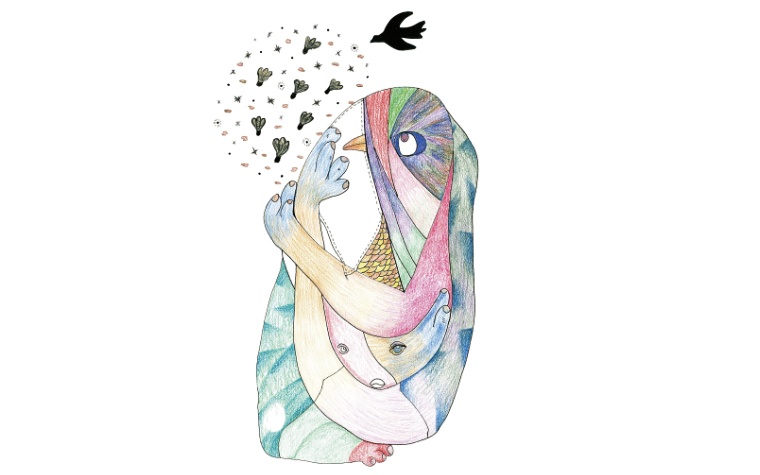 The Kootenay Gallery of Art is pleased to announce the launch of exhibits featuring the multiartist Z'otz* Collective, and multi-disciplinary artist Rocio Graham. August 25 – October 28, 2023.
Z'otz* Collective (Nahúm Flores, Erik Jerezano, Ilyana Martínez) are artists of Latin American heritage living in Toronto. The Collective was formed in 2004 out of a shared interest in collaborative art making. Their work has a playful spirit, quirky subjects and hybrid characters that connect to the storytelling traditions of their culture, background, and history. They produce drawings, paintings, collages, sculptures, and site–specific installations and use a system of rotation: they each work on a different piece at the same time and then they exchange them. Intuition and chance drive the process, as they respond to each other's forms and marks. They have subsequently integrated terracotta and stoneware sculptures into their practice with the same intuitive process. Z'otz* Collective has had over 25 solo exhibitions and over 40 group exhibitions across Canada, Mexico, USA, Serbia, and China. In 2018, the Musée des Beaux- Arts de Montréal commissioned them to create a series of ceramic sculptures for their permanent collection.
The Z'otz* Collective will also be conducting a Collaborative Drawing Workshop on August 23 at 2 pm, and giving an Artist Talk on August 24 at 2 pm. To register for the workshop visit kootenaygallery.com and go to Upcoming Events.
Rocio Graham is a Mexican-Canadian multidisciplinary artist based in Sinixt and Syilx territory. Offering an intimate glimpse into the nuanced identities of Mexican migrant workers that work in the farms of Interior BC, Rocio shares her own experience of uprooting herself and re-negotiating her identity. Growing roots from shared dreams presents work that is deeply rooted in ritual ceremony, performance, and relationally. Developing a friendship with her compatriots becomes an attempt to collectively recreate their sense of community and place. This exploration of the Mexican diaspora is a reclaiming of sorts; seeking a way to rewrite stories of migration using a new visual language – one that emerges from shared roots and shared dreams.
Drawing inspiration from childhood memories of ceremonial regalia and traditional celebratory attire, Rocio creates elaborate ritual garments using seeds, flowers, and other natural materials wildcrafted locally. Wearing the work in re-imagined ceremonial performances forms a connection to the rituals that she grew up with, simultaneously deriving meaning and connection in the new country that she now calls home. Growing roots from shared dreams is an exercise in the discovery of a holistic vision of self – acknowledging the complexities of a mixed and at times contrasting spiritual upbringing and celebrating deeply rooted ritual connections to the natural world.
All are warmly welcome to attend the Opening Reception for these two exhibits on August 25 from 5 – 7 pm. Gallery hours are from 10 am – 5 pm, Tuesday through Saturday. For more information contact the Gallery at 250-365-3337 or email kootenaygallery@telus.net.
The Kootenay Gallery of Art