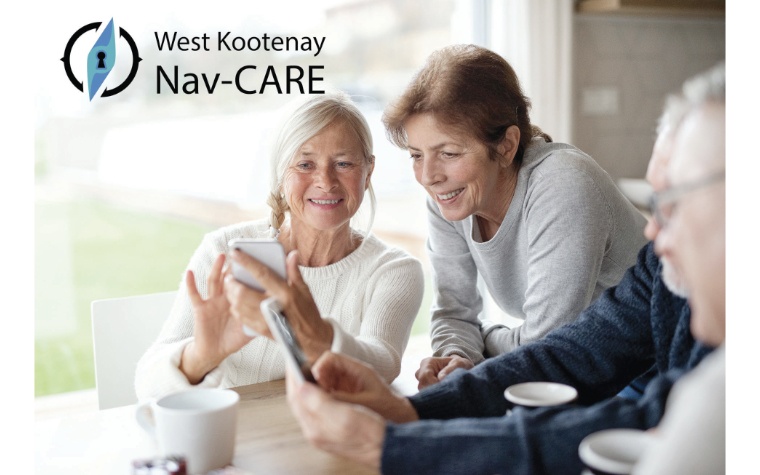 The West Kootenay Nav-CARE program, which helps local people navigate chronic illness, increased frailty, or social isolation, is looking for more volunteers to meet a growing demand for its free services.
Adults living with serious illness or increased frailty, particularly those who do not yet qualify for home-based nursing care, often live with unmet needs and heavy symptom burden resulting in poor quality of life. Many do not know the services that are available. "When a person is overwhelmed, even asking for help can feel too daunting," said Audrey Salazar Calvo, the Nav-CARE Coordinator for Kaslo. "Many people we support have expressed concern about being a burden on their friends and family."
Nav-CARE is a program that was co-created by Dr. Barbara Pesut, PhD Canada Research Chair in Health, Ethics and Diversity at UBC, and Dr. Wendy Duggleby, Research Chair in Aging and Quality of Life, of the University of Alberta. Over the past 12 years, they have been tracking and evaluating the results of the program, which is being implemented in communities across Canada. "One of the most significant findings to date has been that volunteers often underestimate the impact of their visits," said Dr. Barb Pesut. "Yet when we speak to clients about their experience, we consistently hear that the volunteer's support and assistance has made a world of difference."
Nav-CARE volunteers undergo special training where they learn to work with individuals and families to identify what is most important to them. They can then start to build action plans, and help make community connections to build out a network of support with the client. "Nav-CARE is part of the compassionate communities initiative, where we help each other and know that we, in turn, will be cared for," said Toni D'Andrea, the Nav-CARE Coordinator for Salmo. The opportunity to participate within a structured program can help ensure that the scope of involvement is sustainable for both the client and the volunteer.
Volunteers can expect to dedicate four to eight hours per month, including monthly meet-ups to connect and debrief with other volunteers, and optional educational opportunities.
To sign up to volunteer, please contact:
in Kaslo, Audrey Salazar Calvo at 778-205-0031 or kaslo@westkootenaynavcare.org
in Nelson, Valentina Guarneri at 778-689-6832 or nelson@westkootenaynavcare.org
in Trail, Ali Fillmore at 205-364-6204 or trail.navcare@gmail.com
in Salmo, Toni D'Andrea at 778-760-3659 or salmo@westkootenaynavcare.org
in the Slocan Valley, Ana Bokstrom at 250-551-6190 or slocanvalley@westkootenaynavcare.org
in Castlegar, Suzanne Lehbauer at 250-304-1266 or suzanne.lehbauer@interiorhealth.ca
or complete the two minute intake form at https://westkootenaynavcare.org/become-a-volunteer
West Kootenay Nav-CARE