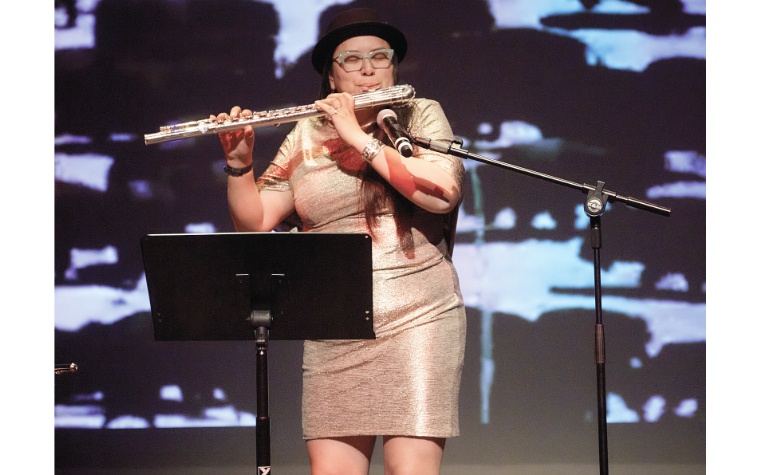 Enjoy an afternoon of tea, a sweet treat and music as the Jessica McMann Trio bring their beautiful original music to the Muriel Griffiths Room at The Bailey Theatre on Sunday, November 5 at 3 pm.
Jessica McMann is an Alberta-based Cree musician, and Two-Spirit person, who introduces audiences to NEW Indigenous Classical music. She connects to you by creating music that centres Indigenous voices, focusing on themes of ecology, spirituality, and language recovery. A multi-disciplinary artist, and classically trained flutist, Jessica interweaves land, Indigenous identity, history, and language throughout her dance and music creation/performance practice.
Jessica has created soundtracks for the ITWE Collective, performed with the Ambrose University Chamber Orchestra and the Foothills Philharmonic Orchestra in Alberta, and was a guest musician for Arcade Fire at the JUNOs.
Joining Jessica is Holly Bhattacharya on violin and Perri Lo on piano. Holly Bhattacharya has been a regular player with the London Philharmonic and Royal Philharmonic Orchestra, performed in "The Phantom of the Opera" in London's West End and performed with Take That, Jarvis Cocker, Gorillaz, Mike Oldfield, Neneh Cherry, De La Soul, Florence and the Machine and Kylie Minogue. Perri Lo is a pianist working in opera, chamber music, and dance with companies including Montreal's Institut Canadien d'Art Vocal, Toronto's Opera Atelier, Vancouver Opera, Ballet BC, and Arts Umbrella Dance Company.
Artistic Director Nadine Tremblay explains, "After hearing from patrons that are not keen on driving at night anymore, we thought we would add a daytime show and sweeten the experience with the added bonus of tea service and a treat."
So, treat your musical appetite in the intimate salon setting of The Griff as you indulge in a delightful afternoon of classical music while you enjoy traditional style tea. Sip from beautiful china cups and savour a sweet treat. Don't miss out on a perfect afternoon filled with musical masterpieces and delicious treats.
Trail Arts Council