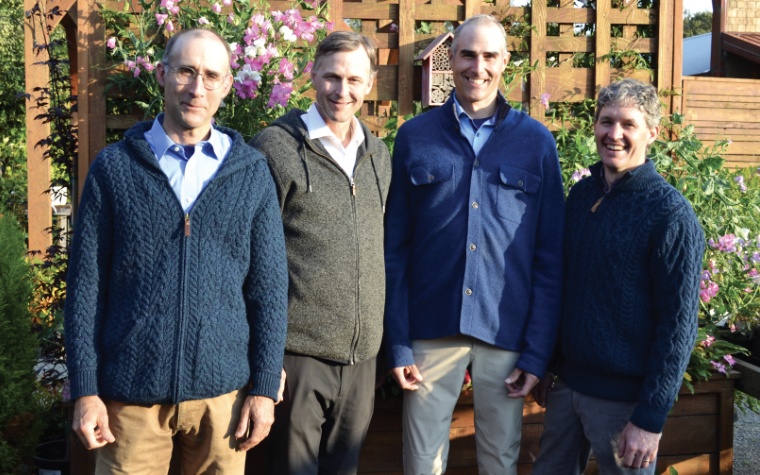 The Inland Isle Men's Quartet will offer an acapella concert "An Evening of Song" at the Eurythmy Studio and Bookstore in Kaslo on Friday, October 6 at 7pm. The Quartet will also give a workshop for adults and children 10 years and up on Saturday, October 7 at 10:30 am, also at the Eurythmy Studio.
The Quartet, which hails from the Mt. Shasta area in Northern California, will present a diverse program of folk songs from Scotland, Ireland, England, spirituals from the U.S., as well as classical and sacred songs. The group will perform concerts in California, Oregon and Montana in October along with this concert in BC.
The acapella singing workshop on Saturday will explore exercises from the singing approach arising out of Rudolf Steiners' work called the School of Uncovering the Voice, as well as aspects of listening into tone unity in acapella singing.
Quartet member Colin Poer, who spends nearly half the year in Kaslo directing the Eurythmy Studio and Bookstore and co-producing the Kaslo Shakespeare Festival with his wife Wendy, is delighted and grateful that the group decided to make the journey to Kaslo. Mr. Poer is joined by quartet members Edward Boyd, and brothers David and Benjamin Boyer who began singing together over 20 years ago while attending the American Eurythmy School in Northern California. The training in Eurythmy, a movement art created by Rudolf Steiner, continues to inspire the group to listen into the inaudible to find a unified tone in singing as an expression of the art of brotherhood. They hope to bring this alive in concert through these beautiful folk, classical and sacred songs.
Tickets for the concert are available at the Bookstore and at Sunnyside Naturals in Kaslo. For more information about tickets or the workshop call 250-353-7675. The Eurythmy Studio and Bookstore is located at 400 Front St. in Kaslo.
The Eurythmy Studio and Bookstore